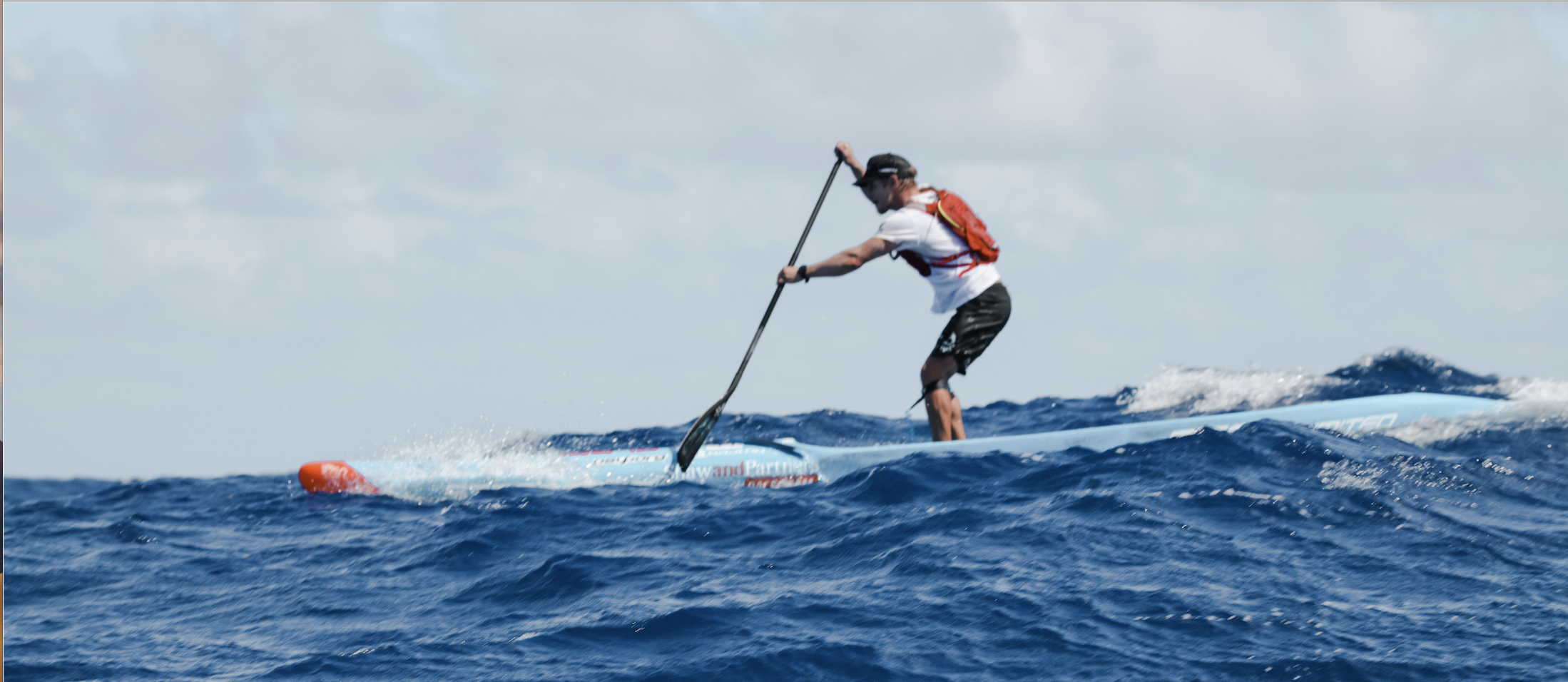 The Challenge of M20
I was really happy with my preparation coming into M20. Even though it was a short 4 weeks in Perth, with zero wind every day, I felt like I had done enough to have a good race. It always hard bouncing around the world doing different events, distances and crafts but I enjoy the challenge and always do the best I can with the time I have. Normally I would like to do a 3-4month prep for a race like this but its just not possible with my hectic schedule. Coming home after Europe those long miles were tedious but after doing the Surf Ski Molokai with the Shaw and Partners Race Team in late May this year I knew it was a must. I conditioned the body the best I could, I paddled, ran, swam and got the kilometres right up to an exhausting level. It's pretty lonely out there when doing 40km paddles so it was great to have fellow west Aussie Matt Bowbridge also preparing for his first crossing to join in on some of those long grinds. I was lucky to have Dede, Kristi, Denise and Gary driving me around.
It was my first time crossing the channel on a SUP. Obviously I wanted to have a crack at the title but I was very realistic with my mindset as there was a lot of unknowns and competitors that cant be underestimated. Even though you are still racing technically on a SUP, racing on an Unlimited can feel like a different sport, it's longer, it has steering and with all the other events going on it can be hard to get practise on every craft. A lot of time and planning goes into this event with board design, logistics and having to rely on a lot of great people around the place. I've been working hard with Starboard to create a competitive unlimited for the past 18 months and I really believe we have one now! It been definitely a passion project of mine and basically we have created a board and steering system that is one of the best in the World. I'm lucky to have great people to work with like Raul Delgado, Ollie O'Reily, Svein Rasmussen and Gordon Stimson!
One of my favourite things this year was standing on the start-line with a Starboard Unlimited & a MB Paddle I've designed, on a training plan I wrote for myself. For me that is a huge accomplishment and I'm loving challenging myself in different ways.
I always love when people start talking up the wind before every downwind race as it just adds to the excitement. You honestly never know until the day whether you are going to have good conditions or not. I feel like Molokai to Oahu is in someways always hard despite the conditions; the wind comes over your right shoulder which means you are constantly cutting right; there are always multiple swells in the pacific which are going all directions; its hot; and just really long (well for me anyways)! Race day went mostly to plan, I started hard and surfed great for three quarters of the race. I was a bit wary coming into the race with my lack of downwinding before the event as it comprised of 3 Hawaii Kai runs and thats it. Therefore I was pumped to be able to compete with James who's an experienced UL paddler and has crossed the channel many times. Experience I believe plays such a heavy role in this race and no matter how good you think you are the Channel teaches you about yourself both physically and mentally. Sometimes it forces us learn the hard way and I'm yet to finish an M2O with nothing to learn.
Having the best ever conditions for the channel with tides, wind and current in our favour sounds awesome in theory but it doesn't mean its going to be easy! As most of my races throughout the season are around 1-1.5 hours this race is a different beast as its more of an Ultra-Endurance competition at 4-5 hours. The ability to go out and go hard the whole way is generally possible in the shorter events where I'm more experienced however in molokai the race really starts at that 2.5 hour mark and despite knowing this my event fell apart at 37km just after this mark. I didn't drink enough early on and suffered badly from cramping in those final 15kms. It was unfortunately my fault as I only drank 1 litre in the first 3 hours and in the heat it obviously just wasn't enough. I can put it down to fighting for the lead with James and getting in race mode. I honestly think my fitness was there but I made a mistake with my fluids. I fell approximately 30 times cramping uncontrollably with my support boat wanting to pull me from the water. When I fell and tried to get back on my SUP it was quite unbearable, my arms, chest and abs would lock and I'd have to force my way through the pain to get moving as that was when I was most comfortable. Sometimes my abs would be at full lock for minutes at a time but I refused to quit. I've only pulled out of one race in my career after having a similar experience at the 2016 Doctor race on the ski and I said to myself I'd never quit again. I had to back off the pace to about 70% and just limp to the finish. I knew we had a long way on the rest of the field so it was just one painful stroke in front of the other. I've had cramping experiences before and I knew I needed to put 3-4 litres of fluid back into me before I would feel ok again. I battled through each stroke and each camelback to get to the finish. The worst bit was if I relaxed and rested on a bump I cramped so I had to constantly stay moving.
The final stretch was some of the toughest paddling I've done into a headwind. As a racer I am always striving for my best performance and to not be able to even race at 100% was tough. Thats what I love about racing as realistically none of my performances will ever be perfect however I will always strive to be as close to that each and every time I'm on that start line. Finishing a race like that is a win in itself. Overall I finished second behind James and I was happy with my race as I know I couldn't have done any more with what I knew before the race.
If we go back 5 years to my first downwind I ever did, I couldn't paddle further than 500m without resting as my legs would get too sore, now I'm racing 52km, for me its quite a personal achievement. My downwinding and my ultra distance racing is getting better and I will be back!
It was amazing to have my whole family there supporting me with Mum, Dad, Kristi, Stephen, Daniel and Kate all in Hawaii. Last year I wasn't able to compete due to Dads sudden Heart Surgery so it was awesome to complete the trip we all planned in 2018 together. I'm so lucky to have such a great family around me who has always been supportive of me. The best was having the supportive voice of Kristi, Dad and my brothers when my body was breaking down and wanting to give in. Also thanks to Kekoa, Trav and all the Starboard team for all there help getting me to the start line!
Until next year!