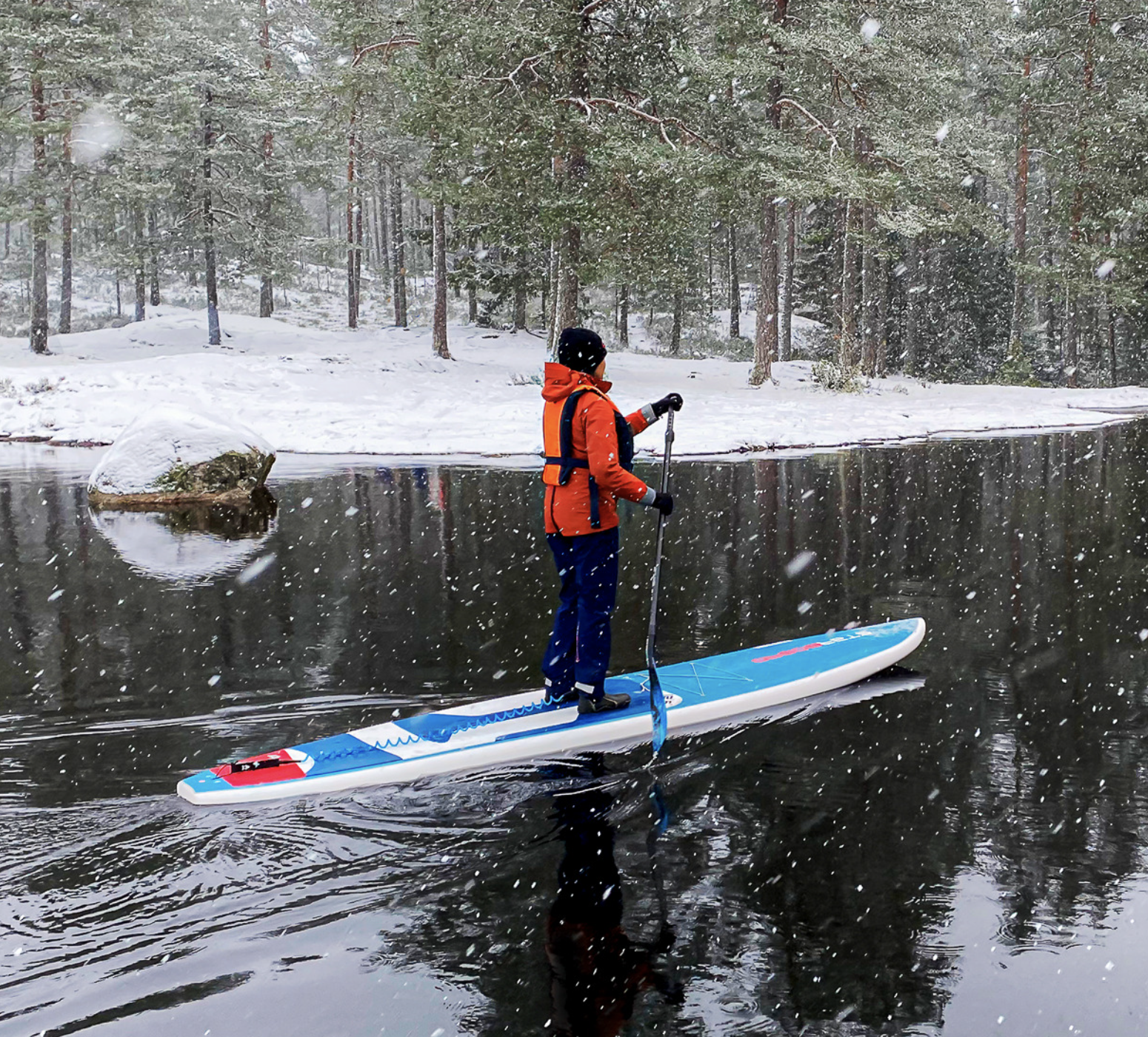 BOOTH Training's Interview –  Nomado
1) Can you let us know more about your business "Nomado" and what your objectives are for the rest of this year?
Nomado is a Swedish event organizer, travel consultancy, and guiding company in the Nordics. Erik Wallgren founded the company in 2001 to become Sweden's first surf ski distributor and organizer of Europe's largest paddling race – Sea Masters Downwind Race which ran from 2009 – 2017 under his leadership. The race attracted paddlers from the Nordic countries as well as top international paddlers. Erik, being a child of the outdoors culture as well as having served as a soldier in the Swedish Special Forces, managed to acquire a network of top-notch athletes who increased the popularity of surf ski paddling in Sweden. In 2020, Erik passed the torch for the surf ski distributorship to our good friend in order to focus on the next leg of his journey. This April, I acquired Nomado to become its new owner and to lead the company into a new era of paddling, outdoor adventure, and travel. I've been an athlete all my life and experienced some of the best moments traveling for sport while meeting new people and learning about different cultures. I also own Yahnny Bly & Co. (YBC), a travel consultancy and bespoke adventure travel company founded in Hawaiʻi in 2017. Despite being hit hard by the pandemic, it allowed me to focus on building Nomado. In the future, YBC will utilize Nomado for its Nordic expertise and relationships that will bolster its international exposure. I want Nomado to be a leader not only with sports-oriented activities but also with experiential travel. Together with Erik, we are developing a core strategy to incorporate outdoor activities, racing, and immersive travel. We currently have two challenging long-distance paddling races –  Around Häradskär Paddle Race with a 20 km course in the archipelago and Bråviken Cold Feet Paddle Race with a 5 km and 10 km course in Sweden's largest fjord. Lastly, I've already started the legwork with an international organization to set up a SUP paddling festival in Sweden. Hopefully, we will be able to continue with this endeavor as we navigate past the uncertainty of today's current state of global health. So, more on this at a later date!
2) How did you meet Michael and why did you decide to do a collaboration with BOOTH Training?
I saw a post on Instagram from Michael that talked about his coaching program. It had a positive message and an energetic vibe which I was diggin'. So, I headed over to BOOTH Training to check it out. My first reaction was that he was genuinely interested in helping people, not just elite athletes, to reach their personal goals. During my years as an elite athlete, I had coaches who whose rosters consisted of Olympic athletes, American National medalists, and Tour de France cyclists. Regardless of their coaching resumes, I experienced everything from amazing to greedy money-grubbing coaches. Fortunately, the latter was rare during my 30+ of racing. It didn't take me long to contact Michael. I ended up commenting on his post and he quickly replied to set up time to talk. One thing about Michael that I sensed early on is that he's a hard worker and does what it takes to get the job done. I can totally understand why he's the best at what he does, and we are fortunate to have him as our coach. I can see Nomado and BOOTH Training working together for the long haul.
3) How big is the SUP community in Sweden? Do you have some SUP rising star racers?
Over the last 11 years, SUP has grown tremendously particularly over the last year due to the pandemic. With more people spending time with staycations in Sweden, outdoor activities have been immensely popular which allowed for those who were curious about SUP in the past to jump at the chance to try something new. The staunch support for environmental awareness and a new group of paddlers have been emerging amongst the younger generations. The popularity of SUP in Sweden has nearly wiped out every small shop of their inventory. This is great but also an obvious challenge because it is now difficult to replenish the shelves with new gear. However, this is not unique with Sweden. The USA, for example, is experiencing the same situation with all outdoor gear. This shows how people in general want to be more involved with outdoor activities. For SUP in Sweden, it was just a matter of time before it started to gain popularity. Now, because surfing is an Olympic sport, this will trigger even more interest to develop SUP into a highly competitive sport here. Swedes produce the top skiers in the world some of whom have tried SUP and expressed that similar muscles for Nordic skiing are used when paddling. SUP has the potential to grow into a cross-training sport for skiers who want to stay fit during the off-season. Also, some of the world's most decorated Olympic canoeists are from Sweden. As these athletes physically age-out, they can continue with SUP using many of the same muscles but with a different distribution of physical exertion; therefore, reducing the strain on muscle groups that may have been strained from years of hard use. Because the SUP scene in Sweden is young, emerging stars have yet to shine but this will quickly change next year. In fact, there is no doubt that a few Swedes will appear on the short list of top international athletes within a handful of years.
4) With time still left of summer, what programmes have you got in store for July and August?
For the rest of 2021, we're having training clinics with BOOTH Training on the 30th and 31st of August and are delighted with the response from locals who are filling up the spots to train with Michael for a couple of hours. BOOTH Training has been our coach since May 2021, and we've been speaking regularly with Michael every other Thursday for our live Q&A sessions – Elevate Your Winning Mindset – which starts at 6AM CET. It's a fantastic way to start the day! For the rest of the year, we are continuing our Nomado Paddling Series that is meant to encourage paddlers from various paddling disciplines as well as all skill levels. We really want to support our community by offering these free paddling events. Each of the 6 paddling events have their own unique sense of beauty because they take place in the archipelago off the eastern seaboard and in the gorgeous lakes that cover the forested countryside. Lastly, this November we'll have the 7th annual Bråviken Cold Feet Paddle Race. It's brutal! The distances aren't long – 5 km and 10 km – but the water is freezing, and the air can add another layer of difficulty that most people can't bear. But the Swedes are tough, and they know how to handle challenging situations. Erik conceived this race because he likes this kind of crazy hard stuff. I'm tough but more of a fair-weathered gal who's learned how to dress properly in order to handle the Nordics.
5) What advice would you give to people wanting to get into SUP racing?
Just do it! The more you convince yourself that you need to be good or expert-level before you can start racing, the more you're hindering the enjoyment of being a beginner. This is when it's the most fun! Sport is also a wonderful way to learn about yourself and to apply the lessons to other aspects of life. Particularly with SUP, it allows you to literally see the world from a distinct perspective. Sometimes, I close my eyes after a hard training session and paddle blind. Seriously! I have long and sometimes incredibly stressful days. There's something about the water that replenishes the spirit. Overall, the whole idea of racing should be fun and it's a terrific opportunity to meet like-minded people. In the end, we are all racing to reach our own goals. So, if you have a bad race, it's a chance for you to improve and grow. Learning how to do this effectively can also be applied to your daily lives. If you happen to improve as an athlete and want to reach high-stakes competitions, don't waste your time with training ineffectively by not having a good coach by your side. Trust me, it will help you to achieve your goals much faster because your coach can help you to get out of your comfort zone while preventing poor technique and unnecessary injuries. It's one of the best things I've done for myself as an athlete – to work with coaches who are happy with your happiness and overall well-being and success.
6) Anything else?
In 2022, we will add more SUP races to the schedule and will be involved with projects that will address how we manage environmental sustainability for events and travel in Sweden. Also, we want more youth, women, diversity, and inclusivity with our local participation. I am a Filipina American with Samoan, Tongan, and Spanish bloodlines. Living and working in Sweden means that I've a sense of responsibility with the community I've chosen to thrive in. So, these types of issues are high on my list of priorities. Lastly, we will have a chance to take part in our local SUP races. This year demanded our focus to be on the revitalization and development of new leadership with Nomado. I'm excited to see how SUP will grow during the years and to be directly involved inspires me to work even harder for the successful development of our projects within Sweden and the international stage.