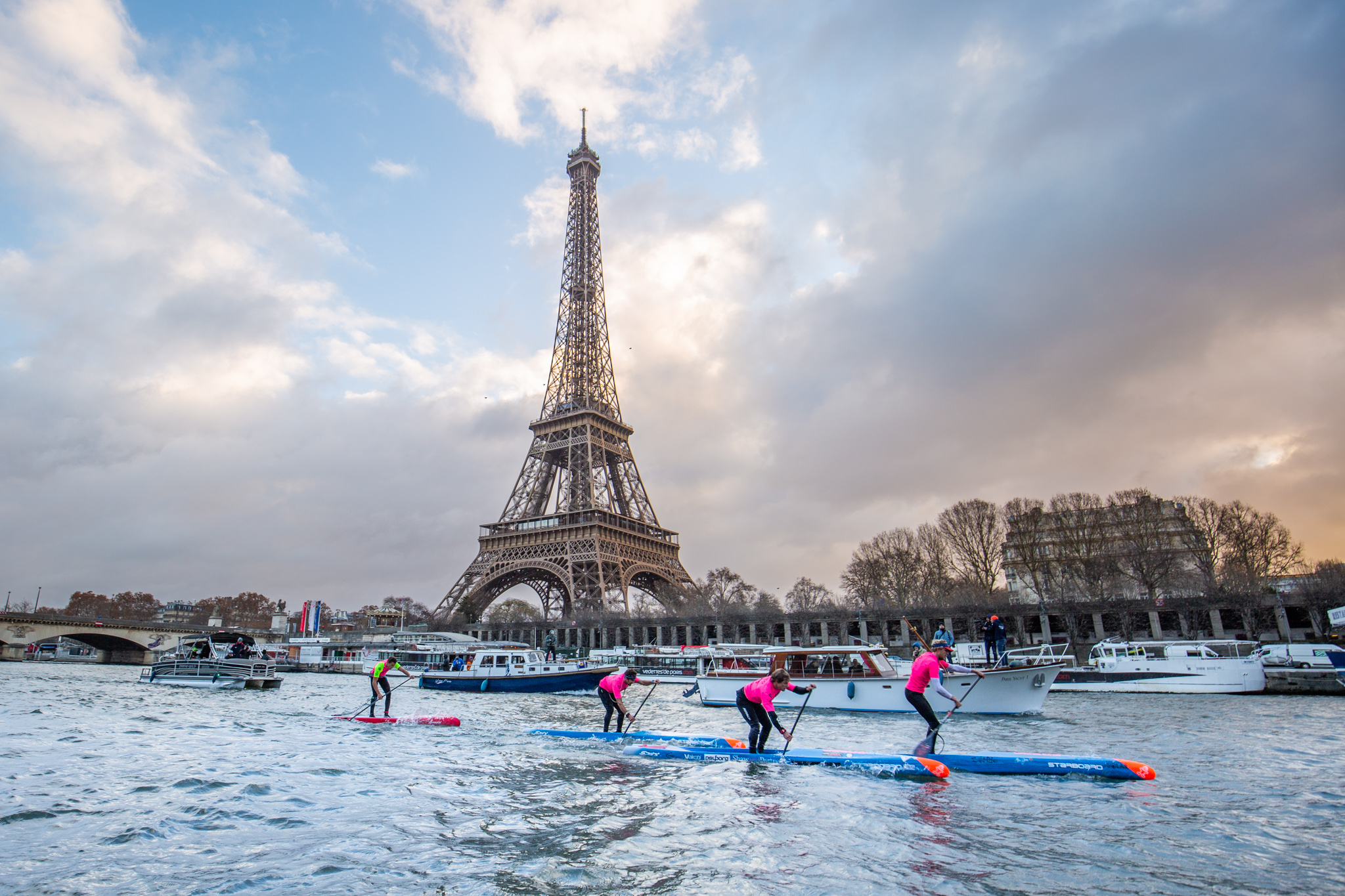 PARIS SUP OPEN: Michael Booth Wins Seine River Distance Paddle
By Lauren Barley
From an apprehensive start to a Champion Title finish, Michael Booth has certainly earned the respect of his fellow competitors following last weekend's race results in the Paris Sein River Paddle. 
With just two nights back home in Perth, Western Australia after winning the ISA World Distance Title in China, Michael was quick to board a plane to Paris, France where he would face very different circumstances. Landing in freezing cold weather; crisp air, high wind and an extremely vast contrast to the hot and humid weather he had just come from. 
Michael tested his body and his perseverance, pushing his comfort zone to a whole new level as he braved the change of climate and focussed on the race that laid ahead. 
"China was extremely hot, humid and dehydrating last week and to then come to Paris and face freezing weather and be wearing thermals and beanie's was definitely a bit of a shock to the body," he said.
Booth admits that coming into the Paris SUP Open and knowing the race conditions he was about to face, he felt apprehensive "not really sure how my body would hold up". 
There was no denying Michael had done the work and was skilled in the distance component, however the sprinting and the climate had him slightly anxious.
"The temperature and the pool sprinting component was always on the back of my mind – not really sure how I would cope with the drastic weather change in such a short period of time as well as the fact I had been training and racing in a lot of distance components lately and barely any sprint races".
Taking away an equal 7th in sprint race on Friday, Booth's main focus was on Saturday's race in the distance element. 
Feeling strong and confident physically, Michael explained his mental strength was challenged as he headed into Saturday's event. 
His mind in two head spaces about the cold weather gear and whether or not to race in it or not tested his integrity – sticking with what he knew worked best and stripping back to basics just before the race commenced. 
Going against the odds of most others on the start line, Booth removed the layers on his top half and stayed warm on the bottom – in the hope of feeling agile and comfortable and as close to "normal" as possible.
"I did a bit of running before the race to get my body nice and warm and then ripped my jumpers and jackets off as well as my gloves and beanie right before the start. 
"I even got so hot during the race I removed my cap!"
The start presented mayhem; Boothy describing it like "dodgem cars" with a field of 800+ competitors fighting for a break. 
"It stayed tight at the front for quite a while and was extremely difficult to break away early on with little to no room. 
"The water was messy and the headwind in the final stretch of the race was extremely tough, hurting every bit of my body!"
Michael stated the race as being one of the most challenging competitions he had ever recorded.
"I tried so many tactics to break the pack, yet it felt like I was pulling a train carriage! The boys were locked on and it felt like there was nothing I could do to get away from them".
As the race proceeded, the front pack made some ground and managed to disperse from the larger field, however the front-runners stayed tight knit until the final few strokes of the race. 
"Coming into the finishing sprint, I felt strong and controlled, it was a head-wind sprint in really messy water, though the conditions weren't too unfamiliar.
"I wanted to finish the year the same way I started it – with a win!"
Stopping at nothing short of just that, Booth grit his teeth and managed to hang in until he crossed the line. 
"It feels pretty awesome to have won this one. I challenged myself and proved to myself that my boundaries are still never too high".
Booth finished just in front of Conor Baxter and Leonard Nika in the distance paddle, placing him in 2nd overall for the weekend. 
"I am stoked to finish the year on a high and feel extremely proud of what I have been able to achieve throughout season.
"Taking away the high's and lows of the season and aiming to come back in 2019 better than ever".