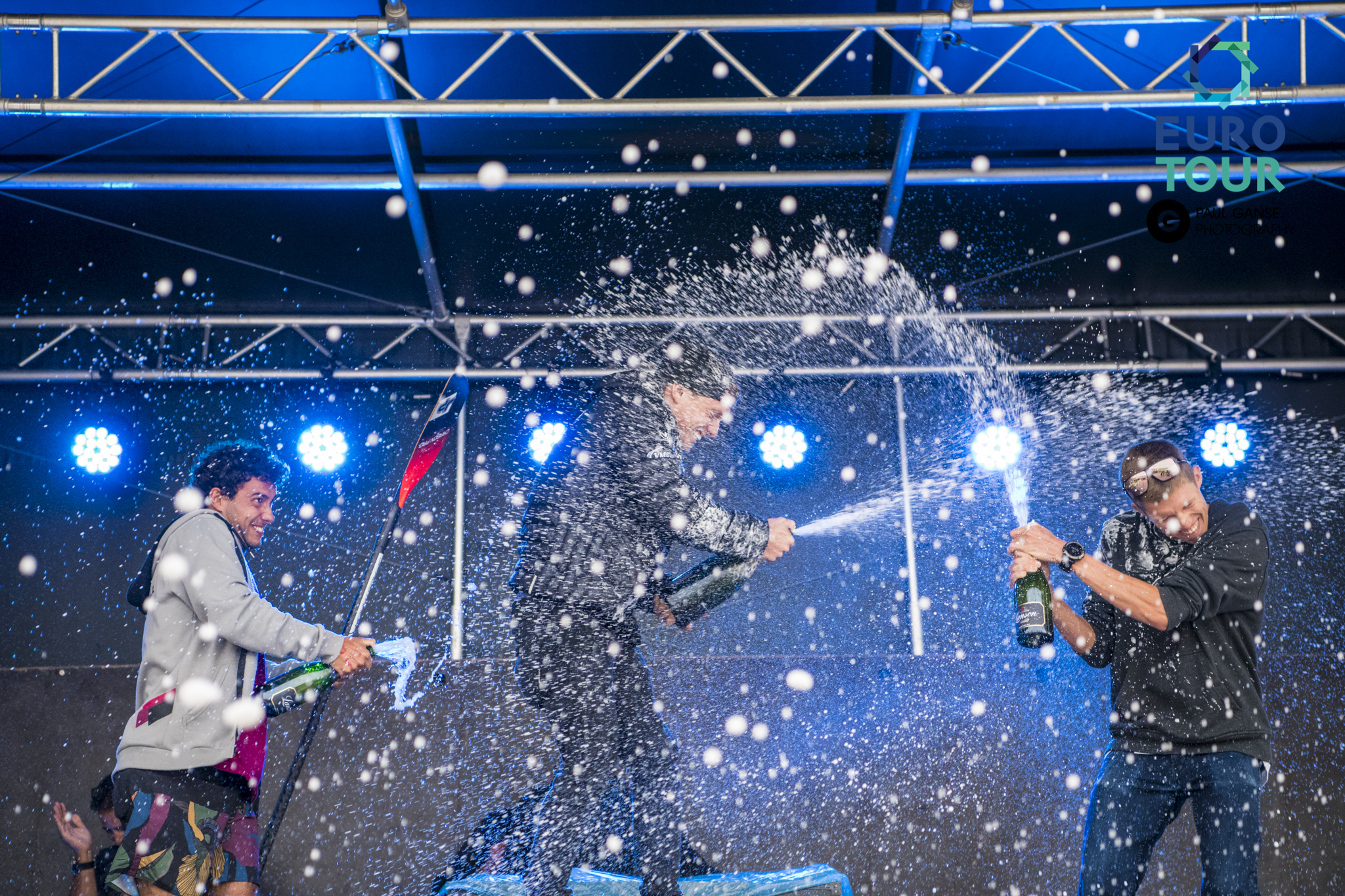 Euro Tour Victory, APP NYC, all on one Crazy Weekend!
​What a crazy trip it has been so far. To race in both New York and Scharbeutz in 24 hours was surreal. When I thought of the plan back in Greece earlier in the year I thought it was a pipe dream. After doing some numbers in Corfu I realised the Euro Tour was not secure. If Titouan won Scharbeutz, which he is very capable of doing, he would win the overall tour by 1.5 points. This was concerning for me as I really wanted to win it, so I started to work out how I could be in two places at once. 
After some consideration I saw that APP NY distance race would be on Saturday morning in NY and the Euro Tour race would be on Sunday in Scharbeutz. After discussing it with both organisers I was able to secure times from both of them that would allow me to fly directly after NY to make it on time. I want to say a big thanks to Belar Diaz and Tristan Boxford for helping make this happen. This sort of communication between two great tours of our sport is awesome and I hope to see more of it! It also allowed Christian, Arthur and Fiona to also do both races, which shows how important both events are to the athletes. 
So once the flights were possible it was about doing the work on the water to make it worthwhile. I mentioned in a previous blog that my body was a bit torn up after Molokai and there was a stage there where I didn't think I was going to be able to race. But I persevered and structured my training to suit the injury and did the best I could with the time I had. Flying from Perth to NY is not the shortest journey equaling some 25 hours of flying and approximately 36 hours of travel. I'm not exactly flying first class and logistically there are always problems. FYI I'm writing this sitting in 22D on my way to Quiberon after fighting with the airline staff to allow my paddles on. Ah the joys of traveling ?
Once arriving in New York, JFK I drove out to pick up one of my boards from a shipping company only to find out it was a public holiday and had to return the following day. I then couldn't find my other board on Long Beach and then spent a day trying to find it. Big thanks to everyone who stepped up and got it to the beach finally. 
I stayed about 15mins away from Long Beach to save a few pennies, due to it being one of the busiest weekends of the year there wasn't a lot of reasonable accomodation close to the beach. I checked in to stay with Martin Vitry, Arthur Arutkin and Noic Gariod and this was our team for the week. Kristi and I decided that due to the travel and the level of commitment of this trip that she would give it a miss. It wasn't going to be very enjoyable (a lot of logistical headaches and travel to reach my crazy goals). But of course I missed my best friend on my travels. 
Long Beach was set up well for an exciting level at the sprints. With 2-3ft surf and calm conditions for the 3minute races it was always going to be close & exciting racing. We don't get to do this type of beach racing too often anymore so it was really fun to have another go at it. I felt arguably the strongest I had in a long time in the sprints and thought if a few things went my way I could've been in that final. I finished 6th which is technically equal to my best sprints result for APP but I'd love to do better one time. I used the 2020 Starboard All Star 22.5 for this event and really liked it. The new boards really lift and maintain speed like never before. 
After this I headed into New Jersey with Arthur and we stayed there the night before competing in the distance race, on Saturday. I chose the Starboard Ace 2020 x 21.5 due to the amount of boat traffic out on the Hudson in the previous years event. This year the event was moved away from the Manhattan side which changed the conditions quite drastically which I probably didn't take enough into account. The 13km race ended up having about 6km of flat water which I didn't anticipate which would've maybe made me choose a different board. However the race at the front was an intense battle and one of the best races I've competed in a long time. The conditions were so varied and Martin and Arthur really brought their A-game. We went back and forth throughout the race in the varied conditions on the Hudson. I really pushed hard just after the Statue of Liberty and made a small gap on Arthur and Martin. Before I knew it Arthur started to close in and when I checked to see where everyone was at, I made probably my only mistake of the race and fell which Arthur capitalised. It was a really cool battle to be in and I gave it everything, I tried to fight back but it was his race that day! 
Was amazing to see Martin doing so well especially after we have been working together for the past few months. It's exciting to see what's to come for him. Was also great to see Itzel finish with a strong 7th and to see Stephanie Shideler smashing it up in the Women's event. I am honestly really enjoying the coaching side of the sport as it is really fulfilling to see others do well. Feels like I'm helping a team of individuals achieve their goals. 🙂
The APP really put on a showcase event in New York and everything ran like clockwork. I was stoked to be apart of it as it's not every day you get to race in one of the most iconic places in the world. I know logistics of getting myself there is tough, but imagine trying to run a race there. As an athlete I appreciate it. Bucket list stuff. Can't wait for Japan. 
Once I finished my race in NY it was a quick pack up and drive to the airport. Now if you've ever been to an American airport it is one of the most stressful things you can do. There are long lines for everything and something that should take ten minutes can take hours. So I wanted to get there as early as I could and arrived about 2 hours before my flight. I was then stuck in a customs line for nearly an hour. Fiona and I had just got through and the fire alarm went off in the airport. At that moment I thought we wouldn't make the race. But we were lucky nothing changed, the airport staff ignored the screeching alarm and we boarded and took off on time. It was a smooth journey from there with planes arriving on time and luggage making it to the other end despite a short connection. 
Once we arrived in Hamburg unscathed with everything running on time, we were picked up, taken to the hotel and I tried to get some rest. We arrived about 4 hours before the race and I barely slept on the plane as I was still amped up from the race. I got 1 hour sleep in the hotel, packed my stuff, found my board and ate lunch. By then it was 345pm and it was time for the warm up and the race start. It was such a weird feeling when I got on the start line considering how little time I had to give myself to think about the race. It really just felt like I was going for a training paddle and I just couldn't really process what I was doing. 
I had a disastrous start getting my leg caught up in my leash and falling into the water. I hit the first can in about 30th position but all was not lost as I knew Titouan had a bad start also. For me to win the tour I had to finish top 3 if Titouan won, but if he didn't win I would retain my title. With this mind set I attacked the race whereas normally my first focus would be try and win. It was different but nice at the same time as I didn't have to worry about anyone else and just the scenario I was in. As expected I felt horrendous on the first two laps just trying to stay in connection with the chase pack as Vinni had a gap on the field. However I warmed into the race and started feeling exceptional on the all new 2020 Sprint x 20.75, what a board, you should try it. I may have been feeling good on my board however my lunch found its way up and things were not good. I was vomiting a lot while I was paddling and chunks of what I was eating 75mins prior were coming up for a second tasting. This was not ideal, as you would expect, but nothing about the preparation for this race was ideal. I would never eat lunch so close to a race but I needed to eat and I had to work with the circumstances i was in. 
I slowly grinded my way up to Vinni just maintaining pace and working on clean turns around the marks. I really didn't want to fall after falling in New York so that was a big goal of mine and I achieved it (well after my start anyways)! Again I let Vinni sit wash for a lot of the last three laps as I was concerned with where T2 was in 4th and I couldn't afford to give any meters to him even though by doing this I would be giving Vinni a great opportunity to paddle past me in the dying stages of the race. However this wasn't to be I turned the last can and sprinted ahead to victory, much to my surprise! I didn't get too long to celebrate though I had to walk 100m down the beach to finally allow for a proper round two of vomiting?. 
Such a fulfilling experience to race well on two different continents in 24 hours. It was such a mental and physical challenge and it hasn't finished yet. I believe on Wednesday (unconfirmed as I write this) I will compete in my first Surfski World Championships since 2015. I haven't focused too much on this discipline however it is always part of my training and I am really excited to see how I will go. I will update you all after this race regardless of the result! Let's see if I can continue this momentum and my travel and commitments don't catch up with me. 
Thanks to everyone for the support!
Until next time, 
Michael