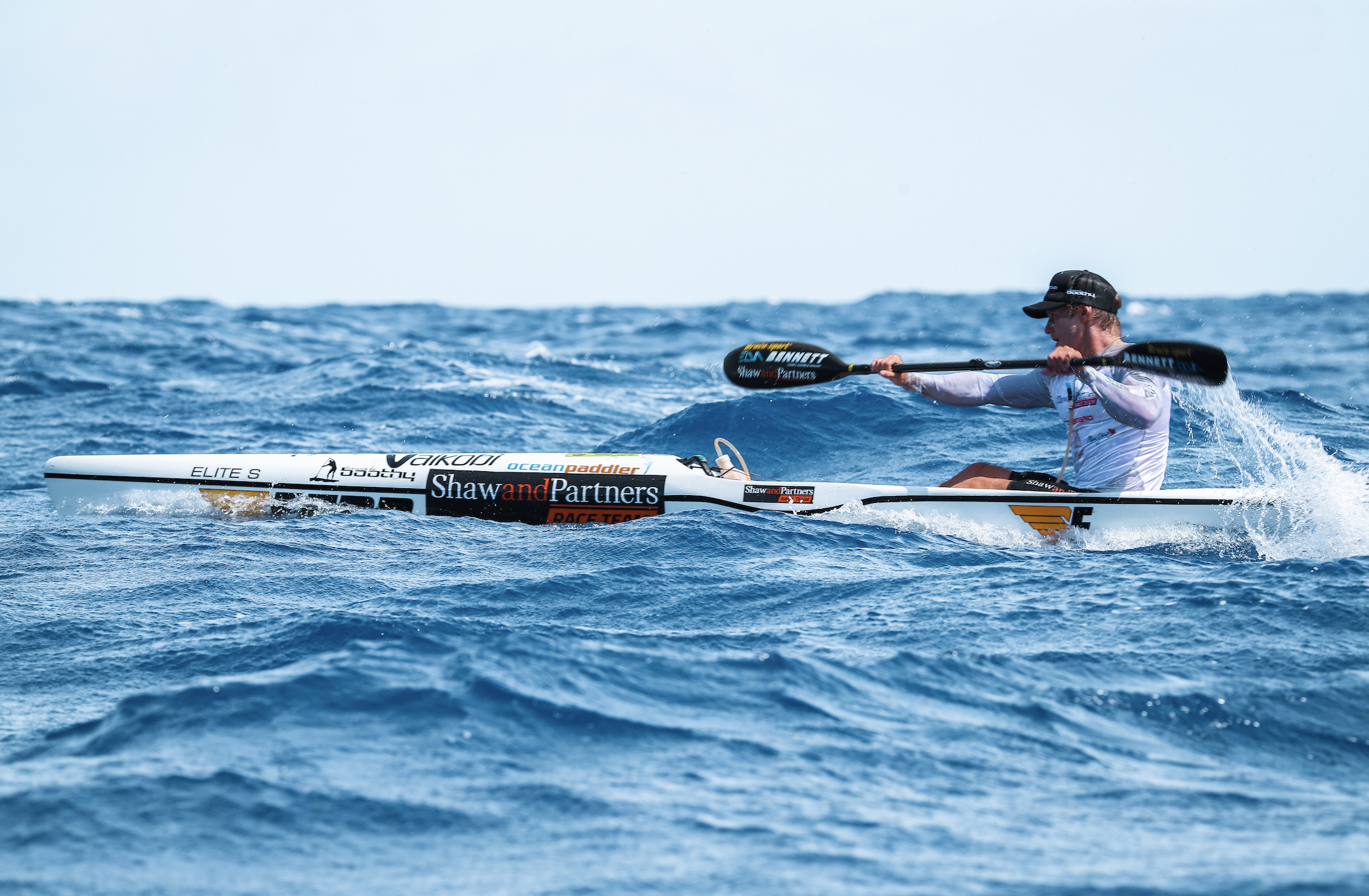 "Best conditions in 30 years"
Molokai to Oahu Surfski 2019
Powering down runs and mixing it up for the first two hours of the M2O was pretty special. Sure I didn't finish at the top end as I was some 10minutes back but it was one of the most fulfilling experiences I've had on the ocean. It was big runs with a hot field with the worlds best and as Dean Gardiner told me it was the "best conditions in 30 years". For some time since I started SUP racing I have wanted to get back out in some ski races and try and balance them both. I competed in The Doctor and 20 Beaches at the end of last year and it re-ignited the desire to get the double blade out again and do more. 
This season I wanted to go back to Molokai after 4 years of not racing the event. It was a lofty goal considering my schedule but what's life without pushing the limits? I spent 5 weeks on the road racing in the US, UK and Europe on my SUP with some awesome results a great start to the year. After arriving in Hawaii I was honestly super nervous about M2O and I guess that came down to lack of prep and expectations I put on myself but once I got out there I was in my element. 
Racing is becoming more and more about challenging myself to be outside my comfort zone. Sure trying to win and be the best paddler on the day is ideal but my focus is also on being the best I can be no matter what the situation. I find 'winning' is not always about crossing the line first but about pushing yourself through new physical and mental barriers. 
I knew coming into the event I would be hard pressed to compete to the level of those top guys who had focused solely on this event for the past three to four months. I was realistic coming into the event and I wanted to finish in the top 10 even though in the back of my mind I though maybe I could do something outstanding. I did plenty of paddling when I was in Perth before I flew out for the start of the SUP tour but it's no secret that not paddling a ski for over a month before molokai isn't ideal.
I arrived into Hawaii after the first stop of the APP World Series in London where I finished with a first in my favourite distance race and a second overall combining with my less liked sprint events. It was another 12 time zones to cross and 30 hours of travel but we arrived to the Halekulani on Monday night excited to be there. The next few days were spent with the Shaw and Partners race team having some awesome paddles on the North and South coast trying to get my feel back. In between we surfed, swam, ate and rested by the pool till we flew over to Molokai the night before the event. Racing and traveling was always going to take its toll but I actually felt really good in the final few days before the race and I always give it my all! 
The anticipation for the race was electric with great winds forecasted and they didn't disappoint. The start line was filled with a bunch of mates that I've paddled with since I started in 2011. I honestly couldn't stop smiling as I felt so lucky to be there. I had a strong start and went out with nothing to lose. I caught amazing runs with the eventual top three for the first half an hour our so and then they gradually paddled away. I sat in 4th for a lot of the race and battled with Ali and Clint just before two hours before the engine started to fade and the forearms started to give in to cramps. I had a high line on the north side as I followed Hank, Cory and Pat with most of the guys who passed me were south of my line. It all started to fall apart around 31km as my times started to drop some 15sec per km which really hurt my average. 
Once the forearms went it was a battle for me mentally as it was really hard to paddle. Sometimes I went straight arm or I'd bomb down runs trying to massage the arms and trying to shake them out. The heat really gets to me on these crossings and I thought I had my nutrition perfect. But after analysing my performance apart from the lack of training I think my paddle shaft was too stiff and I think it was a major factor to cramping. I don't think I could've done anything better out there and if I can say that when I finish I'm always satisfied. Every race we learn no matter what our ability and that never ending process makes paddling so addictive. 
Maybe if my forearms held up for that little while longer I could've done better. However when I was out there and having to start back off I told myself it was about doing my best and trying to finish strong. I guess the thoughts went through my mind to get on the boat but I couldn't give in to that little devil. I had a coke and a snickers around 2:30 (probably too late) and they were the saviour and I eventually finished with my best ever time of 3:22 just behind Macca. It was such a special event to be a part of and I'm so happy I was there this year. Molokai is an event I believe you need to learn and take years perfecting your approach. I know I'll be back for many more, including July for my first SUP crossing! 
There was just so many good runs out there on Sunday and it was easily my favourite paddle of the three I've now done including 2012 & 2015. The last section was rather tricky as I came close to China Walls and the water was wild with backwash, swell, chop and strong tide making you feel like you were in a washing machine… which not the best when you are hurting but all part of the adventure. I turned tight on Portlock hoping for a wave as I saw the sets pass through just before. There was one I could've caught but I hesitated and the watched it roll nicely to the inside. I then spent the next ten minutes frustrated with myself for not going it! Finishing was awesome and it was so cool to be in the race where the fastest times ever where done! It was also the best I've ever felt at the end of that race as normally I'm being dragged out of my boat.
Just wanted to end this with a big thank you to Shaw and Partners and all the team for making it such a memorable trip. We are very lucky to have such a giving supporter of our sport! Thanks to Oceanpaddler (Dean) for organising the ski and all the other stuff he does behind the scenes. And to Vaikobi, Bennett and Maui Jim for supporting the team and my sporadic surfski events. 
I'll be back for the Doctor at the end of the year. But for now I'm home for 7 days before I'm back to Spain and Greece for the final Euro Tour SUP events!